Cling to your god and guns – FIF, Squad Five-O and Taj together 1/19 & 1/20
We're uber excited to announce our first two shows in 2018: two dates with ska-punk favorites Five Iron Frenzy (Denver, CO) and Squad Five-O (Savannah, GA).
The first show is in Jacksonville, FL on January 19 at the Murray Hill Theatre. The second show is at The Loft (Center Stage) on January 20 in Atlanta.
Both shows are all ages. Tickets are going really quick, so don't wait until the day of the show. The Atlanta show is down to just a few dozen tickets so don't miss this chance to see FIF, Squad Five-O and us, of course, in person. If you have been living in a fallout shelter (and we wouldn't blame you), here's some info on these two awesome bands.
Five Iron Frenzy has made a triumphant, fan-funded return to recording with their 10th album, Engine of a Million Plots.
In 2011, it took Five Iron just shy of an hour to raise $30,000 from fans new and old. But eager listeners didn't stop there: The band made Kickstarter history by earning $207,000–almost seven times their initial goal. That singular show of support launched Engine of a Million Plots, their first album in a decade.
With their new album, Five Iron pushes their characteristic sound into new territory. Eschewing nostalgia, the members bring a fresh and evolved perspective to their songwriting. Enjoying complete freedom in the studio, Five Iron was able to exploit their full range of talents without the restraints and pressures of a label. As a result, Engine displays a creativity and confidence of sound that will delight long-time followers and newcomers alike. In it the band explores darker themes, both lyrically and musically, without sacrificing their sense of humor. Available on CD, LP, and Digital Download, Engine of a Million Plots arrives in stores and online November 26th, at the tail end of a Fall tour in support of Reel Big Fish.
Five Iron Frenzy first formed in 1995 with vocalist/lyricist Reese Roper, former bassist Keith Hoerig, guitarist Micah Ortega, and lead songwriter Scott Kerr. They soon added Dennis Culp on trombone, Andrew Verdecchio on drums, Leanor Ortega-Till on saxophone, Nathanael Dunham on trumpet, and Sonnie Johnson on guitar. They gained national exposure with the songs, "Oh, Canada" (Our Newest Album Ever!, 1997) and "Where the Zero Meets the Fifteen" (Upbeats and Downbeats, 1996). Up until they disbanded in 2003, the band entertained audiences with spirited, interactive shows, sometimes in full costume. They announced their reunion in 2011 with the release of their free single, "It Was a Dark and Stormy Night."
Fans' enthusiastic response to Five Iron's return is a testament to the lasting impact of their music and message. The self-described undead band is excited to make waves in the digital age with genre-pushing new work. Engine of a Million Plots is now available.
Squad Five-O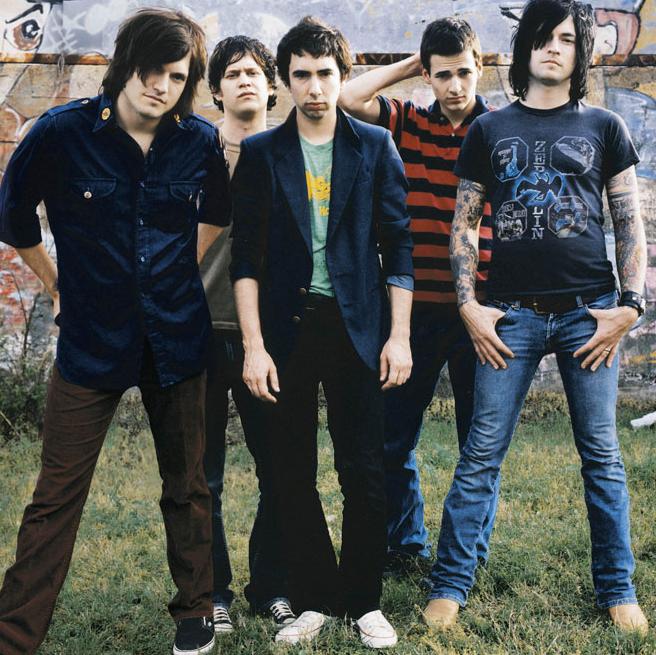 Squad Five-O is a ska-punk band from Savannah, Georgia. Like their style, their name was derived from a cross between the television shows Hawaii Five-O and The Mod Squad. Between 1997 and 2006, the band grew lyrically and in popularity, shifting from a small indie Christian label to major label Capitol Records and released five albums in the process.
Originally founded the Fortson brothers, Jeff and John, the band's following grew quickly spurred by the popularity of third-wave ska as well as artists like Five Iron Frenzy, The Insyderz, The O.C. Supertones and others. In 1997, they took HM Magazine's reader's choice award for Favorite New Artist.
Through controversy and triumph, common themes in their music deal with the power of youth, and the effects of social ills. After their Tooth & Nail records contract was sold to the general market label Capitol Records, the band released their final album, Late News Breaking, in 2004.
The band reunited for Cornerstone 2012 and again last August and have been playing shows since.