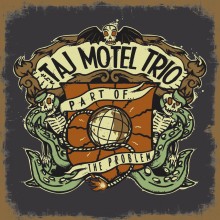 release date:
December 18, 2007
share:
Personnel:
Ben Sanders - Lead Vocals & Guitar
Kevin Rose - Drums & Gang Vocals
Nick Kastner - Trumpet & bgvs
Zach Hill - Trumpet & bgvs
Bo Underwood - Bari & Tenor Sax, bgvs
Jay Tench - Trombone & Backing Vocals
Peter Williams - Trombone
Josh Wow - Bass

Aditional musicians:
Rob Hoskins - Organ (tracks 3, 4, 6, & 10)
Matt Smith - Bass (track 1)
Part of the Problem
God Save the Scene
Stop Playing Games
Java Joe
I Don't Wanna Be Your Friend
OaOaO
Another Drink
She Don't Love Me
Josh Sucks Kites
Walk Away
Radio Silence
Last Love Letter
Turn Down the Suck
Center info. Write about album, where when etc. Tell funny stories people can relate to.